Here is a popular Bicol express recipe with a twist. The crispy Bicol express. Instead of cooking the pork the usual way, which is, by boiling in water, this recipe is using cubed fried pork to make it crispy then mixed with a sauce combining coconut cream, shrimp paste and green chilies. I assure you that this is a better version of Bicol express specially those who loved eating fried foods.
You can serve this dish in two ways. One is by mixing the spicy coconut cream sauce with the fried pork or you can serve them separately, the fried pork arranged in a platter and beside it a small bowl containing the spicy coconut cream sauce.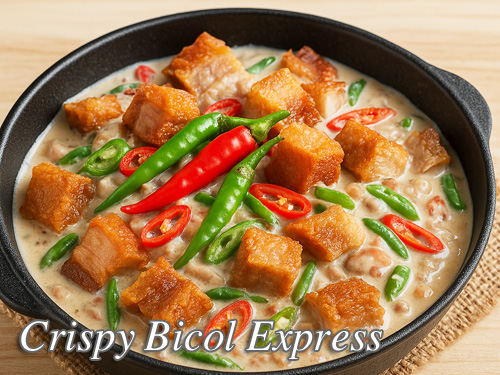 Print Recipe
How To Cook Crispy Bicol Express
Servings:
2
to 3 servings
Ingredients
1/2

kilo pork belly

cut into cubes

2

cups

coconut cream

1

small onion

chopped

1

head garlic

minced

2

Tbsp.

bagoong alamang

or shrimp paste

14

green long chilies or siling pangsigang

stemmed and minced

1

Tbsp.

cooking oil

Salt and pepper to taste

Cooking oil for deep frying
Instructions
How to Cook Crispy Bicol Express:
Boil about 4 cups of water in a pot. Add pork, salt and pepper then simmer pork until tender.

Then remove the pork from the boiling water and put on a colander to dry.

Heat enough cooking oil in a pan to deep fry the pork cubes. Deep fry and drain.

In a wide pan, heat oil over medium heat. Saute onion and garlic until fragrant.

Add shrimp paste and stir cook until slightly brown.

Add coconut cream, green long chilies and water then bring to a simmer.

Season with salt and pepper. Then mix the fried pork cubes and stir until well coated.

Serve hot with steamed rice or fried rice.