I often overlook this recipe and wondering always what recipe will I post for today? Maybe because I thought I've already included this on my recipe collections on this blog. Anyway, chicken curry is I think an adopted dish from our ASEAN neighbors since most of our dishes seldom have curry powder in it. And come to think of it, there are also versions on cooking this dish.
Some put carrots but the old fashion way is just using potatoes and bell peppers. It's your choice to include carrots it looks more attractive and taste better anyway. Coconut milk or evaporated milk, its also according to your preference since some people don't like or can't tolerate coconut milk.
Unveiling the Origins of Chicken Curry
The delightful tale of Chicken Curry Pinoy Style begins with its journey from our ASEAN neighbors to the heart of Filipino cuisine. Discover how this adopted dish has found a cherished spot in our homes and taste buds.
A Symphony of Flavors: Cooking Chicken Curry
Prepare yourself for an exciting culinary adventure as we explore the step-by-step process of cooking this mouthwatering dish. Let the aromas and flavors come alive as we dive into the art of creating Chicken Curry Pinoy Style.
Sauté and Sizzle: The Cutting and Sauteing Process
Start your culinary escapade by cutting the chicken into bite-sized pieces. Then, witness the magic as garlic sizzles and turns light brown, infusing the air with its enticing aroma. Follow the journey as finely chopped onions join the sizzle, releasing their delightful flavors.
The Chicken Unites: Infusing Flavors with Patis
It's time for the star of the show, the chicken, to take center stage. Witness the culinary chemistry unfold as the chicken meets the sauteed garlic and onions, and patis (fish sauce) makes its grand entrance. Allow the ingredients to mingle for about 3 minutes, creating a symphony of tastes.
Enhancing the Melody: Seasoning with Spices
As any great dish requires, the Chicken Curry Pinoy Style embraces a medley of spices. Join the orchestra of flavors as curry powder, pepper, and MSG dance together, elevating the dish to new heights. For those seeking an extra spicy note, the addition of minced siling labuyo awaits.
Simmering Serenade: Creating a Harmony of Tastes
Embrace the art of simmering as water joins the ensemble, creating a delicious broth that nurtures the chicken to perfection. With the pot covered, allow the flavors to harmonize as the chicken reaches its halfway point of tenderness.
Vibrant Variations: Introducing Vegetables
In the next act, we welcome the vibrancy of vegetables to the stage. While the classic performance includes potatoes and bell peppers, don't hesitate to experiment with the addition of carrots, adding an enticing splash of color and flavor.
Creamy Cadence: Coconut Milk or Evaporated Milk?
Now comes the moment of choice, where you decide the path to creaminess. Two enchanting options await—coconut milk, with its richness, or evaporated milk, providing a subtle, silky touch. Embrace your culinary instinct and choose the note that resonates most with your taste buds.
Harmonious Conclusion: Bringing It All Together
As the performance nears its end, let the flavors come together in a beautiful crescendo. Stir the pot until the liquid gracefully begins to boil, signifying the final stages of cooking. In this grand finale, allow the ingredients to blend harmoniously, reaching a delightful climax of tastes.
Unleash Your Inner Chef: Customizing Chicken Curry
Like any masterpiece, Chicken Curry Pinoy Style welcomes personal touches. Feel free to unleash your inner chef and make adjustments according to your preferences. Enhance spiciness, experiment with colorful vegetables, and compose a dish that truly reflects your culinary artistry.
A Captivating Ensemble: Serving Suggestions
To present this culinary masterpiece, consider serving Chicken Curry Pinoy Style with steamed rice, allowing it to soak up the symphony of flavors. Elevate the experience by presenting it on a traditional Filipino platter or a bed of banana leaves, adding a touch of cultural charm to your dining table.
Enjoy the Culinary Overture
Let the curtain fall on your delightful culinary journey with Chicken Curry Pinoy Style. An enchanting fusion of flavors, this beloved Filipino dish will leave a lasting impression on your taste buds and warm your heart. So, don your apron, gather your ingredients, and embark on this culinary adventure that promises to be as rewarding as it is delicious. Bon appétit and enjoy the culinary overture that is Chicken Curry Pinoy Style!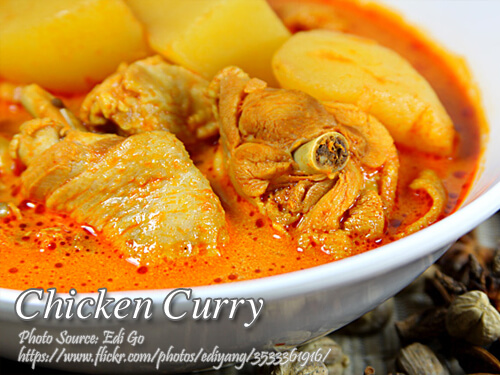 Print Recipe
Chicken Curry Pinoy Style
Chicken Curry Pinoy Style is a mouthwatering dish that involves sautéing chicken with garlic and onions, adding a medley of spices and vegetables, and finishing with a creamy touch of coconut milk or evaporated milk.
Ingredients
1

kilo

chicken

you choice of cuts (e.g. legs, wings or thigh)

2

pc

large onions

quartered

3

pcs

red and green bell peppers

cut into strips

3

stalks

celery

cut 1 inch long

3

pcs

medium sized potatoes

cut into large cubes and fried

2

Tbsp.

curry powder

1/2

tsp.

ground pepper

1

tsp.

MSG or granulated seasoning

optional

1

Tbsp.

patis

1

tsp.

salt

4

cloves

garlic

crushed

1

cup

coconut milk or evaporated milk

1/2

cup

water
Instructions
How to cook Chicken Curry:
Cut chicken into small serving pieces. Saute garlic until light brown; and finely chopped onions.

Stir until onions are wilted. Add chicken. Pour patis then stir for about 3 minutes.

Season with curry powder, pepper, MSG and water. Cover and simmer until chicken is half done.

Add the rest of the ingredients except the coconut milk or evaporated milk.

Add milk when chicken is done. Keep stirring until liquid boils. Cook for another 5 minutes.

To make your chicken curry a lot spicier, add 2 to 3 pcs minced siling labuyo (birds eye chili peppers).
Notes
Cooking Tips for Chicken Curry Pinoy Style:
Layered Spices: To infuse the chicken with rich flavors, sauté the garlic until light brown and add finely chopped onions, ensuring they are properly wilted before adding the chicken. This step sets a strong foundation of taste for the rest of the dish.
Taste and Adjust: As you season your chicken curry with curry powder, pepper, and minced siling labuyo (birds eye chili peppers), taste the sauce intermittently and make adjustments as needed. This way, you can achieve the perfect balance of spices and heat to suit your palate.
Timed Vegetable Addition: To maintain the vegetables' vibrant colors and textures, add them to the simmering curry when the chicken is halfway cooked. This ensures that the vegetables cook just enough to be tender-crisp and contribute to the overall taste and presentation of the dish.
Nutrition Notes:
Calorie and other nutrition information is derived from HappyFolks.Com recipe nutrition calculator. The percent daily value (%DV) is based on a daily 2,000 calorie diet.
Nutrition Information:
Amount per Serving:400g, Calories:332kcal, From fat:103,  Total fat:12.1g, Saturated Fat:9.1g, Trans Fat:0g, Cholesterol:41mg, Sodium: 702, Total Carbohydrate: 44g, Dietary Fiber: 8g, Sugars: 6g, Protein: 15g, Vitamin A: 5%, Vitamin C: 136%, Calcium: 7%, Iron: 18%