Run out of ideas on how to cook simple but tasty tilapia dishes? If one of your favorite dish is bistek (a Filipino version of beef steak) but don't want to eat beef or pork for health reasons or you are just sick of eating beef all the time, then this bistek na tilapia might be the answer. I was amazed that this recipe taste like the beef version even though the main ingredient is fish. Try it and I'm sure you will love it. You might want to try the other fish bistek called the bistek na bangus after cooking this dish!
A Delicious Twist on a Classic Dish
If you're a fan of the mouthwatering Filipino dish, bistek, but looking for a healthier or seafood alternative, you're in for a delightful surprise. Bistek na Tilapia is a savory and tangy recipe that gives you all the flavors of the classic bistek, but with a twist – it features tilapia as the star ingredient. This innovative take on a traditional favorite offers a delicious and nutritious way to enjoy your meal. Let's dive into this recipe and see how you can prepare Bistek na Tilapia for yourself.
Preparation: Getting Your Tilapia Ready
Before you embark on your culinary adventure with Bistek na Tilapia, it's essential to prepare the fish properly:
Cleaning the Tilapia: Start by cleaning the tilapia. Remove the gills, innards, and scales. This step ensures that your fish is ready for cooking.
Rinsing the Tilapia: Rinse the tilapia thoroughly to remove any remaining blood and scales. This will give your dish a clean and fresh taste.
Adding Flavor with Rock Salt
To infuse the tilapia with flavor, follow these steps:
Cutting Slits: Make small slits on each side of the fish. This step helps the seasonings penetrate the fish and gives it a delightful taste.
Rock Salt Rub: Rub the tilapia with rock salt. This not only adds a hint of saltiness but also enhances the overall texture of the fish.
Frying the Tilapia: Achieving Crispy Perfection
Next, let's make the tilapia crispy and delicious:
Frying the Tilapia: Heat oil in a medium-sized wok or frying pan. Fry the tilapia until the skin becomes crispy. Once done, set the fried fish aside.
Creating the Bistek Sauce: A Flavorful Blend
The heart of any bistek dish is the delicious sauce. Here's how you can make it:
Sautéing Onions: In the same wok or pan, heat some oil and sauté the onions for about 2 minutes, or until they turn soft. The aroma of sautéed onions is simply irresistible.
Adding the Key Ingredients: Now, it's time to add the main ingredients for the bistek sauce. Pour in water, calamansi juice, soy sauce, MSG, sugar, and ground pepper. Also, add some of the sautéed onions for that added depth of flavor.
Simmering to Perfection: Let the mixture come to a boil and simmer for a few minutes. The flavors will meld together, creating a rich and savory sauce.
Combining the Elements: Bistek na Tilapia Takes Shape
Now, let's bring everything together and complete this delicious bistek recipe:
Adding the Fried Tilapia: Gently place the fried tilapia into the simmering sauce. This step helps to soften the fish and allows it to absorb the delicious bistek flavors.
Incorporating the Onions: Don't forget to add the sautéed onions, which contribute to the overall texture and taste of the dish.
Simmering to Perfection (Again): Let the dish simmer for an additional minute, allowing all the components to harmonize.
Serving Bistek na Tilapia: A Culinary Triumph
Now that your Bistek na Tilapia is ready, it's time to serve up this delightful dish. The flavors have melded, creating a unique and scrumptious meal.
This Bistek na Tilapia is best served hot, straight from the pan. The aroma alone will make your mouth water, and the taste will be simply unforgettable.
A Must-Try Seafood Delight
In the world of Filipino cuisine, bistek is a classic dish cherished for its rich flavors and unique tanginess. By transforming this traditional recipe into Bistek na Tilapia, you can enjoy all the delicious elements of bistek while savoring the health benefits of tilapia. It's a win-win situation for your taste buds and your well-being.
The preparation process may seem intricate, but the end result is worth every step. Bistek na Tilapia offers a delightful twist on a familiar favorite, introducing a hint of seafood into the mix. Whether you're exploring new culinary horizons or seeking a healthier alternative to beef or pork bistek, this recipe is sure to impress.
Final Thoughts:
The flavors of tangy calamansi juice, savory soy sauce, and the unique twist of tilapia come together to create a harmonious and unforgettable meal. It's a dish that not only tantalizes your taste buds but also brings the joy of cooking to your kitchen.
So, why not give Bistek na Tilapia a try? Whether it's a family dinner or a gathering of friends, this dish is sure to be a hit. It's an excellent way to enjoy the flavors of bistek with a seafood twist, and it might just become your new favorite meal. Bon appétit!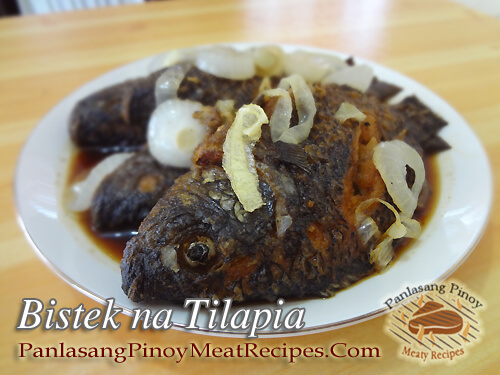 Print Recipe
How to Cook Bistek na Tilapia
This recipe is a fish version of beef bistek dish. I was amazed that this recipe taste like the beef version even though the main ingredient is fish.
Ingredients
1

kilo

medium size tilapia

about 6 pcs

2

pcs

white onions

sliced into rings

1/4

cup

calamansi juice

extracted from fresh calamansi

1/2

cup

soy sauce

2

cups

water

1/2

tsp.

ground pepper

1/2

tsp.

MSG

2

tsp.

sugar

rock salt

to taste

cooking oil
Instructions
How to cook Bistek na Tilapia:
Clean and wash the tilapia, remove grills, innards and scales. Rinse to remove blood and remaining scales.

Cut a slit on each side of the fish and rub with rock salt.

Fry the tilapia until the skin is crispy and set aside.

In a medium size wok or frying pan, heat some oil and saute onions for about 2 minutes or until the onions are soft. Remove from the pan and set aside.

Pour in water, calamansi juice, soy sauce, MSG, sugar and ground pepper then let boil, add also some of the sauteed onions and simmer for a few minutes.

Then add in the fried tilapia and simmer for 1 minute to soften the fish and add the onions.

Simmer for 1 minute more then remove from heat and serve hot.
Notes
Cooking Tips for Bistek na Tilapia:
1. Perfectly Crispy Skin: To achieve the ideal texture, make sure to fry the tilapia until the skin is crispy, as this not only adds a delightful crunch but also prevents the fish from becoming soggy when added to the sauce.
2. Balance the Tanginess: Adjust the amount of calamansi juice and soy sauce to your personal taste, as some prefer a more tangy flavor, while others may opt for a milder and savory profile, ensuring the perfect balance for your palate.
3. Marinate for Enhanced Flavor: If you have extra time, marinate the tilapia in the bistek sauce for 30 minutes before frying; this will infuse the fish with more intense flavors, making your Bistek na Tilapia even more delicious.