A great tasting and savory beef strips dish that you can cook anytime. This dish is so easy the ingredients in cooking this dish is usually available in you kitchen pantry and your refrigerator. You only need the fry the beef first to enhance the flavor then saute some aromatics like garlic and onion.  After that put some water, tomato sauce, vinegar, horse raddish, mustard, salt and pepper then simmer until the beef is tender. One interesting ingredient in this dish is the horse radish that makes this a spicy beef. Usually a lot of chilies or peppers are used to make a dish spicy. But the spiciness of this dish comes from the horse radish. If you wonder what is a horse radish and what it taste like, if you have tasted wasabi paste, then that's it! it taste like wasabi. Actually horse radish is usually substituted to wasabi plant when making wasabi paste for sushi because wasabi are very expensive.
By the way, you can also use pork steak instead of beef if there is none available or you don't find beef appetizing. Also, beef is tougher than pork so it will depend on you which meat you want to cook in this dish.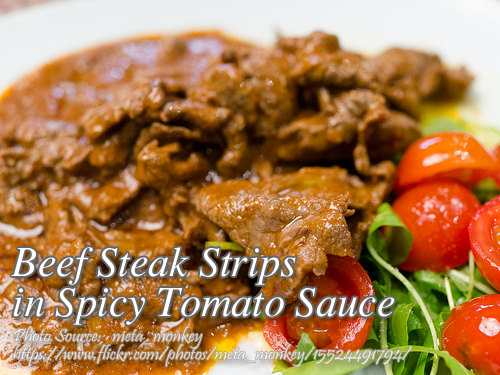 Print Recipe
How to Cook Beef Steak Strips in Spicy Tomato Sauce
Ingredients
1

kilo round beef steak

cut into strip, 2 inch long

1/4

cup

flour

1/4

cup

onion

chopped

1

clove

garlic

minced

1/3

cup

cooking oil

1 1/2

cup

water

2

tablespoon

catsup or 1/4 cup tomato sauce

1

tablespoon

vinegar

1

teaspoon

horse raddish

grated

1

teaspoon

mustard

3/4

teaspoon

salt

1/4

teaspoon

pepper

Monosodium glutamate

MSG
Instructions
How to cook Steak Strips in Spicy Tomato Sauce:

Dredge meat with flour. Heat oil in skillet and fry meat on both sides.

Add garlic, and onion and saute for a minute or two or until onions are transparent.

Stir in 1 cup of water, tomato sauce or catsup, vinegar, horseradish, mustard, salt, MSG, and pepper.

Cover and simmer until tender, stirring occasionally.

Pour 1/2 cup water in skillet scaring browned bit from bottom.

Add seasoning to taste. Serve hot. Good for 10 persons.