Are you running out of ideas on how to cook your favorite bangus or milkfish? If this fish is one of your favorite food then I think this bangus curry will be a great addition to your menu. Provided that you also love to eat dish with curry in it. If you like chicken curry, then I think you will love this dish also. Not only this is a delicious dish, it is also easy to cook and to prepare. All you have to do is buy a boneless bangus and all the rest of the ingredients listed in the recipe below. Then you are ready to cook! The only tedious task is deboning the bangus but now a days you can easily buy it in wet markets which the fish vendor will gladly do the deboning for you or you can also purchase it in the supermarket already repacked and frozen in the fish section.
NOTES ON THE INGREDIENTS:
Bangus or milkfish is one of the most abundant fish that are supplied locally. There are different varieties of bangus here in the Philippines and the most common are the fresh water and the brackish or saltwater varieties. The most preferred variety is the one called Bangus Dagupan because the meat is creamy and tasty compared to other varieties. The only description I know is bangus dagupan dwell in brackish or salt water and has shiny dark scales and the head and eyes are smaller compared to the fresh water bangus.
Curry Powder is the main ingredient  of making curry dishes. So obviously you can't make bangus curry without it. I think all curry powders are the same and can be used in cooking this dish. Branded curry powder sold in supermarkets or the ones sold repacked in small plastic bags in the wet market will do.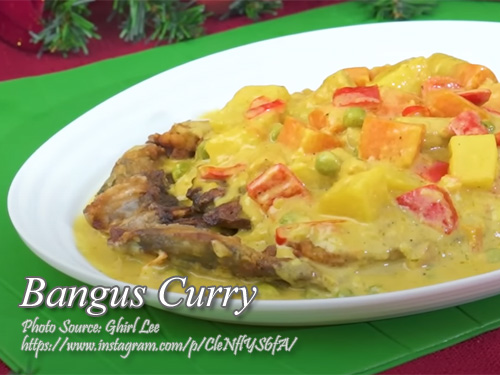 Print Recipe
How to Cook Bangus Curry
If this fish is one of your favorite food then I think this bangus curry will be a great addition to your menu.
Ingredients
2

pcs

boneless bangus

(medium size)

1/4

cup

all-purpose flour

1/4

cup

cornstarch

black pepper to taste

Salt to taste

3

cloves

minced garlic

1

pc

small onion

1

pc

thumb-sized minced ginger

1

pc

tomato

1/2

cup

water

1 1/2

cup

coconut milk

1

pc

red bell pepper

diced

1

pc

carrot

peeled and diced

1

pc

potato

peeled and diced

2

Tbsp

curry powder

1

Tbsp

sugar

2

Tbsp

fish sauce

2

pieces

finger chili

cooking oil for frying

4

pcs

calamansi

(extract the juice)
Instructions
How to Cook Bangus Curry
Season bangus with salt and pepper. Sprinkle calamansi juice all over the fish.

In a deep plate, combine cornstarch, flour, salt and pepper. Mix until well combined. Dredge the bangus until well coated.

Heat cooking in a pan and fry the bangus until golden brown. When done, transfer to a wire rack and let it cool. This way the skin will be crunchy and not soggy.

Heat about 2 Tbsp of oil or butter in a pan and sauté onion and garlic until fragrant. Add the tomatoes and stir. Simmer until the tomatoes are soft.

Add carrots and potatoes and a little bit of water about 1/2 cup. Let it simmer for 2 to 3 minutes until the carrots and potatoes are fork tender.

Add curry powder, coconut cream and 1/2 cup water. Simmer for a few minutes while stirring.

Season the sauce with patis and sugar while stirring. Add siling labuyo to make it slightly spicy.

To assemble the bangus curry, put the fried bangus in a serving plate and pour the curry sauce over the bangus when ready to serve.
Notes
Notes on Serving the Dish:
When all the ingredients are cooked, don't combine the fried fish with the curry sauce immediately when not ready to serve. It will make the fish soft and not as appetizing compared to the bangus that the skin is still crispy. 
Tip to maintain the fish crispyness:

After frying the fish, don't transfer it directly on the plate. Put it on the wire rack so that the steam coming from the fish won't make the skin soggy. Cool it down first on the rack then transfer it on the plate when ready to serve.