Stewed mudfish with bamboo shoots, grated young corn, patola and spices.
Ingredients:
2 tbsps. cooking oil
1 tsp. garlic, crushed
2 tbsps. onion, sliced
2 cup young corn, grated
8 cup water
5 tbsps. salt
6 slices dalag (mudfish), cleaned and cut to serving pieces
2 & 1/3 cup bamboo shoots, sliced
2 cup saluyot leaves
1 cup patola, sliced
How to cook Dalag with Bamboo Shoots and Young Corn
Saute garlic, onion, and corn Add water and season with salt.
Allow to boll until corn is tender.
Drop the pieces of dalag together with the bamboo shoots.
Cover and cook for 15 minutes.
Add the saluyot leaves. Cook 3 minutes
Add the patola and cook 4 minutes longer.
Serve hot. Good for 6 persons.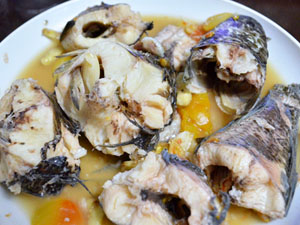 Try Other Recipes :
Tahong (Mussels) with Young Corn and Malunggay

Mussels with young corn and malunggay recipe is cooked mussels with shredded young corn and ...

Chicken Chopsuey Special

Ingredients: 1/2 cup shortening 1/2 kilo chicken, cut up 1 cup ham slices (optional) 1 ...