Ginataaang kuhol or golden apple snails in coconut milk is a Filipino freshwater mollusk delicacy. These river snails are cooked in coconut milk with spices like garlic, ginger, turmeric, bagoong alamang and red chili pepper.Cooking the snails in coconut milk is one of the traditional way of cooking it and I think this is the only way these snails are cooked. If you will ask me, this is one of my favorite Filipino dish but the only hindrance of cooking this is the availability and if the source where it is caught is clean. I have an experience where I bought more than 2 kilos of kuhol but I never thought the vendor is sneaky enough to lie to us where he got the snails. When we place it in a basin full of water to let snails vomit the stuffs inside, the stench is unbearable. I think they caught it in a septic tank (poso negro). So before buying the snails, smell it first.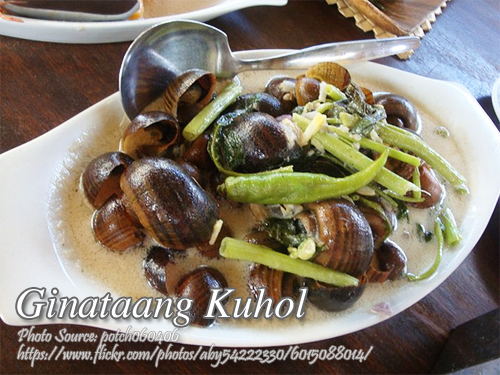 Print Recipe
Ginataang Kuhol (Snails in Coconut Milk)
Ingredients
3

kilos

kuhol

golden apple snails

1

thumb-size fresh ginger

chopped

5

cups

coconut milk

1

cup

onions

chopped

2

cups

coconut cream

1 to 2

pcs finger pepper

siling haba

1/3 to 1/2

cup

bagoong alamang

1

thumb-size fresh turmeric

luyang dilaw, chopped

2

cloves

garlic

cnopped

1 to 5

pcs hot chilis for spicy hot ginataang kuhol
Instructions
How to cook Ginataang Kuhol
Wash and scrub river snails thoroughly.

Saute garlic until golden brown then add ginger, turmeric, onions and cook until mushy.

Add in bagoong and cook. Wait until all are well-blended.

Add kuhol and coconut milk. Cover pan tightly and cook over low heat.

When kuhol is tender, pour coconut cream and continue cooking.

Drop in finger pepper. If you prefer hot, add in chilis.

Wait for the sauce to thicken and oil comes to the surface.

Add water in case the mixture dries out.

Continue cooking until kuhol is tender. Serve hot.