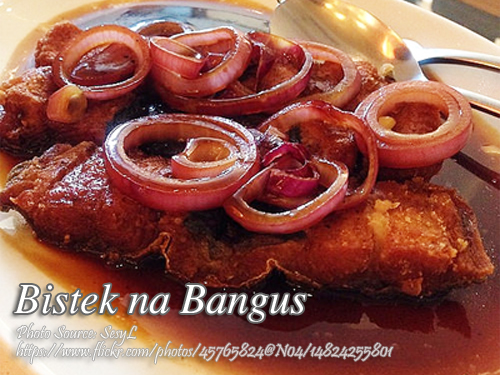 Print Recipe
How to Cook Bistek na Bangus
This is a healthier version of the original bistek, that uses thinly sliced beef cooked in soy sauce, kalamansi juice and onions.
How to cook Bistek na Bangus:
Wash the bangus belly and cut into desired sizes. Heat oil in a pan and fry the bangus skin side first until golden brown. Set aside.

In the same pan where you fried the bangus, heat about 2 Tbsp. cooking oil and saute garlic until golden brown.

Add onions, then saute until soft. Set aside some of the onions for garnishing.

Add tomatoes and cook until soft.

Add in soy sauce, calamansi, peppercorns, and fried milkfish bellies then pour a cup of water.

Bring to a boil and simmer for about 2 to 4 minutes. Serve hot with steamed rice.