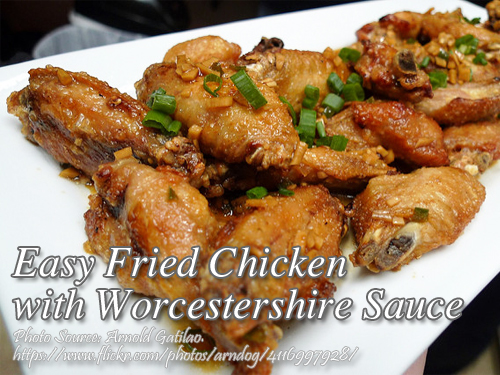 Print Recipe
How to Cook Easy Fried Chicken with Worcestershire Sauce
If you are searching for a nice fried chicken recipe without any breading or batter, then this easy fried chicken with Worcestershire sauce is a good choice.
1

kilo dressed chicken

washed clean and and cut into serving pieces

1

tablespoon

Worcestershire Sauce

1

teaspoon

iodized salt

2

teaspoons

lemon or lime or kalamansi juice

1/2

teaspoon

ground black pepper

1

teaspoon

soy sauce

optional

Cooking oil for frying
How to cook easy fried chicken:
Marinate the chicken pieces in Worcestershire Sauce, salt, lemon or lime or kalamansi juice, black pepper, and soy sauce (optional) for 5 minutes.

Heat oil in a deep frying pan or wok. Then when oil is hot enough, drop in the chicken pieces but avoid putting too much just enough that the chicken pieces won't stick to each other.

Deep fry all the sides until golden brown. To get rid of the excess oil, drain in the wire basket or paper towels.

Serve with Worcestershire Sauce and mixture which consists of 2 tablespoons Worcestershire Sauce and 1/2 cup catsup.