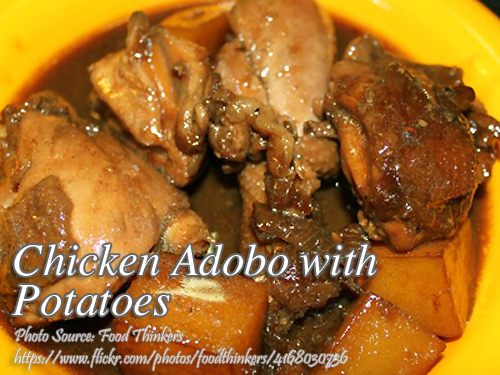 Print Recipe
How to Cook Chicken Adobo with Potatoes
This chicken adobo with potatoes is a tagalog version of adobo and it's saucy unlike the other adobo recipes I've already posted that has very little sauce or almost dry and oily.
Servings:
6
to 8 servings
How to Cook Chicken Adobo with Potatoes:
Heat oil in a saucepan and saute garlic and onion. After a minute add the chicken.

Stir fry the chicken until most of the liquid has evaporated.

Add in soy sauce, vinegar, sugar, laurel leaf and black pepper.

Cover and simmer for 3 minutes then add the potatoes.

Then add 1/2 cup of water and cover.

Simmer again for 15 minutes or until the potatoes and chicken are cooked.

Season with magic sarap and patis or salt (just in case the adobo lacks salt).

Serve hot.
Please Watch the Video Below on How to Cook Chicken Adobo with Potatoes: