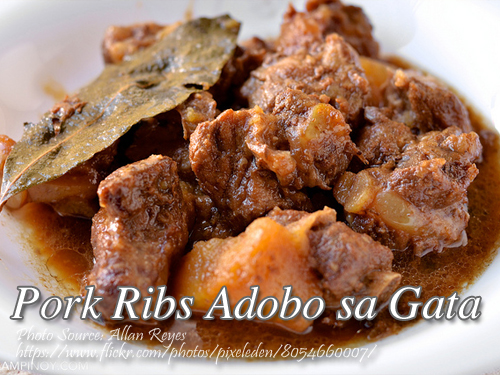 Print Recipe
How to Cook Pork Ribs Adobo sa Gata
The way I can describe this pork ribs adobo sa gata is the usual pork adobo cooked in vinegar, soy sauce, aromatics, spices and added with coconut milk. It is a pork adobo with a twist.
How to cook Pork Ribs Adobo sa Gata:
In a medium size pan, saute garlic, ginger and bay leaves until fragrant.

Add in pork ribs and brown the meat on the bottom sides for about 5 minutes. Cover. Then do the same thing on the other side of the meat for 5 minutes.

Then add 2 cups of water, soy sauce, vinegar, black pepper, onion, chilies and bring to a boil.

Simmer until the meat is almost tender. Then add the coconut milk and simmer for another 10 minutes until the meat is completely cooked and the sauce is thickened.

Season with salt or granulated seasoning if you want. Serve hot with steamed rice.