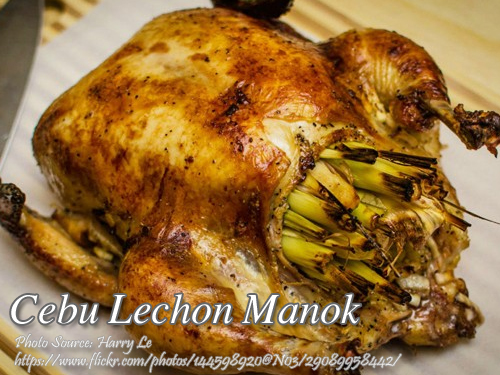 Print Recipe
Cebu Lechon Manok (Baked)
This is a simple lechon manok roasted in the oven. When you think of lechon manok, it should be roasted on burning charcoals skewered on a spit.
How to cook Baked Cebu Lechon Manok:
Rub the skin and inside of the chicken with salt and pepper. Then rub the skin of the chicken with garlic, ginger and soy sauce.

Stuff the chicken with lemon grass and bananas. Wrap the chicken tightly with aluminum foil.

Roast in a preheated 400 °F oven for about an hour. Then open the foil and let it roast until the skin is golden brown and crisp (approximately 30 minutes or more).

Serve with dipping sauce made from a mixture of vinegar, onions and pepper.