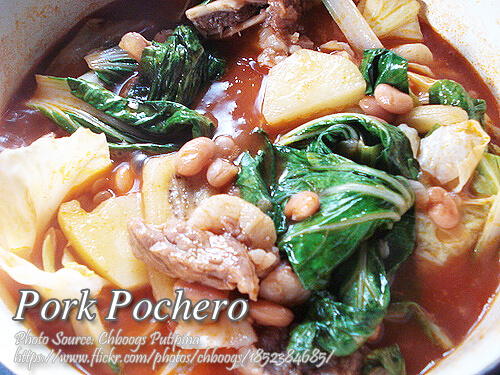 Print Recipe
How to Cook Pork Pochero
Pork pochero is one of the variations of beef or chicken pochero and it is one of the popular Filipino tomato based meat stew.
Servings:
6
to 8 servings
How to cook Pork Pochero:
In a medium size pan, saute garlic and onions until fragrant. Then add the pork belly and stir fry for about 3 minutes or until the pork sizzles.

Then add the patis and tomato sauce. Stir for a few minutes then add the 3 cups of water, white beans and peppercorns.

Bring to a boil then simmer for 20 to 30 minutes or until the pork and the white beans are tender. Remove the floating scum and add more water if the soup stock is drying up.

When pork is tender, add in the potatoes and cook for 3 minutes more or until the potatoes are tender.

Then add in the green beans, cabbage, pechay and saba bananas and cook for 3 to 5 minutes more.

Adjust the seasoning and add more salt if necessary. Serve hot.