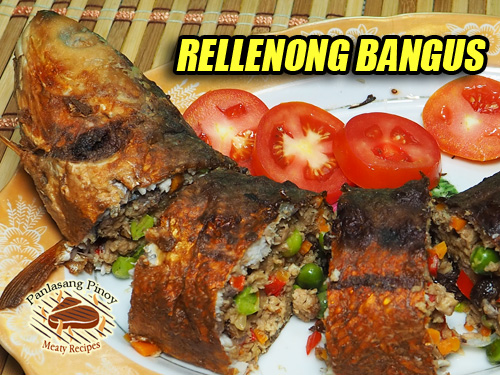 Print Recipe
How To Cook Rellenong Bangus
Rellenong bangus is one of the most popular dish in the Philippines. On top of the delicious taste and unique process of preparation compared to other fish recipes, the amount of work involve is tedious.
Servings:
2
to 3 Servings
1

large sized bangus

milkfish

1

onion

chopped finely

4

cloves

garlic

minced

1

small sized carrot

small cubes

1

box raisins

optional

2 to

matoes

chopped

1

raw egg

large

1

tsp.

Vetsin

monosodium glutamate

1

tsp.

Salt

½

tsp.

Worcestershire sauce

1

green bell pepper

chopped finely

2

tbsp.

Flour

cooking oil for frying
Scrape fish scales. Clean. Gently pound fish to loosen meat from the skin. Use flat side of a knife in pounding.

Break the big bone at the nape and on the tail. Insert the end of the handle of an aluminum kitchen turner (sandok) through the fish neck.

Gently scrape down the handle between the meat and the skin. Scrape down to the tail, going around and on the other side of the fish.

If you feel the meat is entirely separated from the skin, remove the handle, squeeze and push out meat (with the big bone), starting from the tail going out through the head. This way, you will be able to push out the whole meat without cutting an opening on the skin.

Marinate skin and head of fish with soy sauce and calamansi ( lime ) juice. Set aside. Boil fish meat in a little water. Drain. Pick out bones. Flake meat.

Saute garlic until brown. Add onion and tomatoes. Stir in fish meat, carrot, and pepper. Season with salt, vetsin, ground pepper, and Worcestershire sauce. Add raisins.

Transfer cooked mixture to a plate. Cook, then, add raw egg and flour. Fill in mixture in bangus skin. Wrap bangus in wilted banana leaves or in aluminum foil. Fry. Cool before slicing.

Garnish with sliced fresh tomato, spring onions or parsley. Serve with catsup.