Panlasang Pinoy Meaty Recipes Mini eCook Book
Hello Meat Lovers!
I like introduce to you this mini electronic book called
Panlasang Pinoy Meaty Recipes eCook Book. It contains recipes of popular Filipino pork, beef, chicken, fish and seafood recipes. The book was compiled in a beautiful mini ebook in PDF format.
You can download it instantly after you input your email address on the small box below and hit the submit button. So hurry! just click the submit button below and get instant access to download your very own Panlasang Pinoy Meaty Recipes eCook Book.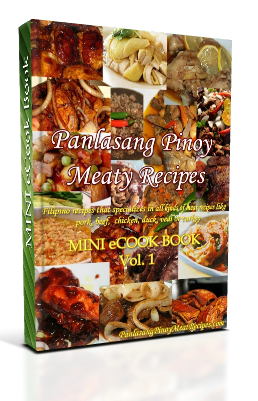 Download Now!
Click the Submit Button Below!
Mouthwatering Recipes For YOU!
Just sign-up to our newsletter to get the eBook.
Please provide your name and email and hit the subcribe button.
Note: All subscribe/unsubscribe requests must be confirmed via email.
It's very important to check your email inbox and click the confirmation link. Otherwise you won't get the ebook. Also, be sure the email address you entered is correct.
If you are already a subscriber, you can go back here and use the box above to unsubscribe by entering again your email address the second time.